Mecha Name:F91 Gundam Formula 91
Originating Series: Mobile Suit Gundam F91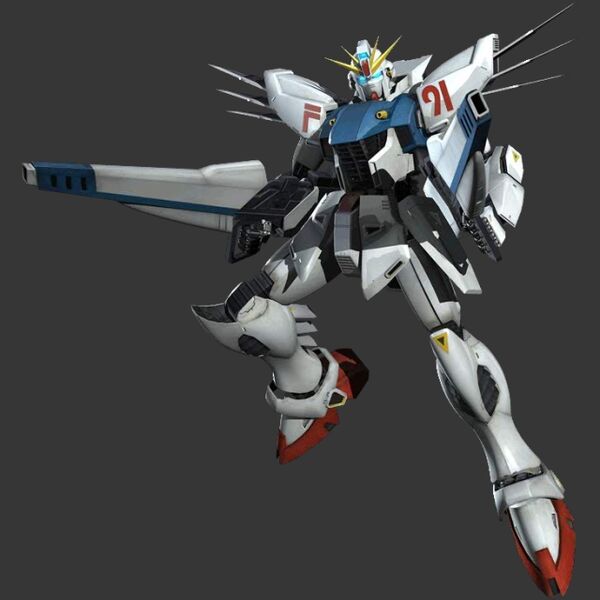 Background: The F91 was completed and deployed some fifty years after the legendary RX-78-2 Gundam, during a period of the Earth Federation's decline. It was developed by SNRI as part of their Formula Project.
The F91 was assigned to the training ship Space Ark, a modified Clop-class light cruiser. This unit would be piloted by Seabook Arno, son of the bio-computer's designer, who completed the unfinished bio-computer. Seabook would show the power of the F91 during first sortie against a scouting party of the Crossbone Vanguard in the Frontier I colony, destroying three enemy machines. Seabook would then take the F91 on a mission to infiltrate the Crossbone Vanguard controlled Frontier IV colony to search for his friend Cecily Fairchild.
The F91's final mission during the war with the Crossbone Vanguard would be to fight against the Vanguard invading Frontier I. This battle would have three distinct stages. The first stage was to fight off enemy mobile suits, including members of the elite Black Vanguard Squadron. The second stage was to destroy all of the Bug automated weapons that Carozzo Ronah released into the colony. The final stage took place out in space where Seabook's F91 and Cecily's XM-07 Vigna Ghina engaged Iron Mask's XMA-01 Rafflesia and destroyed it.
The Gundam F91 made its combat debut against the Oldsmobile Army in UC 0122 with Bergh Scred, former pilot of the Gundam F90, as its pilot.
The complete F91 was first deployed in UC 0123 and later became a limited mass-production MS. The Earth Federation sortied a number of these mass-produced F91s against the pirate group Crossbone Vanguard after the Federation were tricked by the Jupiter Empire pilot Zabine Chareux that they were resisting arrest. One notable unit was painted blue and piloted by Harrison Martin who was a close match for Seabook Arno and his more advanced XM-X1 Crossbone Gundam X-1. Even ten years later the F91s VSBR presented a threat against Seabook Arno's F97 Crossbone Gundam as it could penetrate a beam shield or destroy an anti-beam cloth with a single shot. Despite being 10 years old the VSBR still managed to pierce two layers of beam shields before being blocked by the Crossbone Gundam's powerful beam zanber.
Last edited by Vangran on Fri Jul 15, 2011 7:47 pm; edited 2 times in total



Posts

: 21


Join date

: 2011-07-12



APPROVED!
Mecha Name: F91 Gundam F91
Originating Series: Mobile Suit Gundam F91
Custom Colors: None
Statistics:
HP: 11400
EN: 200
Agi: 100
Move: 7
Weapons:
Vulcan:
Damage: 400
Ammo: 20
Range: 1-2
Type: Projectile 1

Melee:
Damage: 400
Range: 1
Type: Melee

Mega Machinecannon:
Damage: 800
Ammo: 8
Range: 1-3
Type: Projectile 1

Beam Saber:
Damage: 1600
EN: 10
Range: 1
Type: Melee

Beam Rifle:
Damage: 1800
Ammo: 8
Range: 1-4
Type: Beam 1

Beam Launcher:
Damage: 2000
Ammo: 8
Range: 1-5
Type: Beam 2

VSBR [slow]:
Damage: 3000 ( v-2 )
EN: 20
Range: 1-3
Type: Beam 3

VSBR [fast]:
Damage: 2000 ( v-2 )
EN: 20
Range: 1-5
Type: Beam 2
Armor + Barrier Pierce

MEPE Attack:
Damage: 700 ( v-8 )
EN: 5
Range: 1-3
Type: Special Beam

Inherent Abilities:
1) Type: Mobile Suit (UC, Frontier Era)
2) Beam Shield
3) Countercut: Beam Saber
4) Countershoot: Vulcan, Mega Machinecannon, Beam Rife
5) MEPE (4): Spend one charge (max 4) + 4 EN to dodge an attack (one dice roll). Charges can be regained by dodging attacks without using MEPE, at a max rate of 1 per turn.
6) Biocomputer: Spend all 4 MEPE charges + 16 EN. For one turn: Weapon Damage + 20%, dodge up to two attacks (two dice rolls) without using MEPE, Enable MEPE Attack.

Admin




Posts

: 186


Join date

: 2011-07-12


Age

: 37


Location

: MSWAD





Similar topics
---
Permissions in this forum:
You
cannot
reply to topics in this forum